Aurosó Chocolate
Our founder, Catrin Burr, launched Aurosó Chocolate in 2020. Through her journey to a healthier lifestyle, Catrin felt frustrated at the lack of options for filled chocolates that were reduced sugar and preservative free. She set out to make a product that was delicious and pure, and that had sustainability credentials to match. Catrin feels passionately that we all deserve a little luxury in our lives.
In each bar, a rich ganache filling is covered in smooth 90% RaiseTrade Madagascan chocolate, free of preservatives, artificial colourings or soy lecithin. We've created a range of luxurious flavours that we hope will challenge and excite your palate.
"…when I moved to a low sugar lifestyle, I really missed having chocolate treats. What was available was often really bitter and didn't satisfy my dessert cravings at all! So I was driven to create my dream chocolate bar that was reduced sugar but didn't compromise on flavour or quality of ingredients. I hope that you love it as much as I do."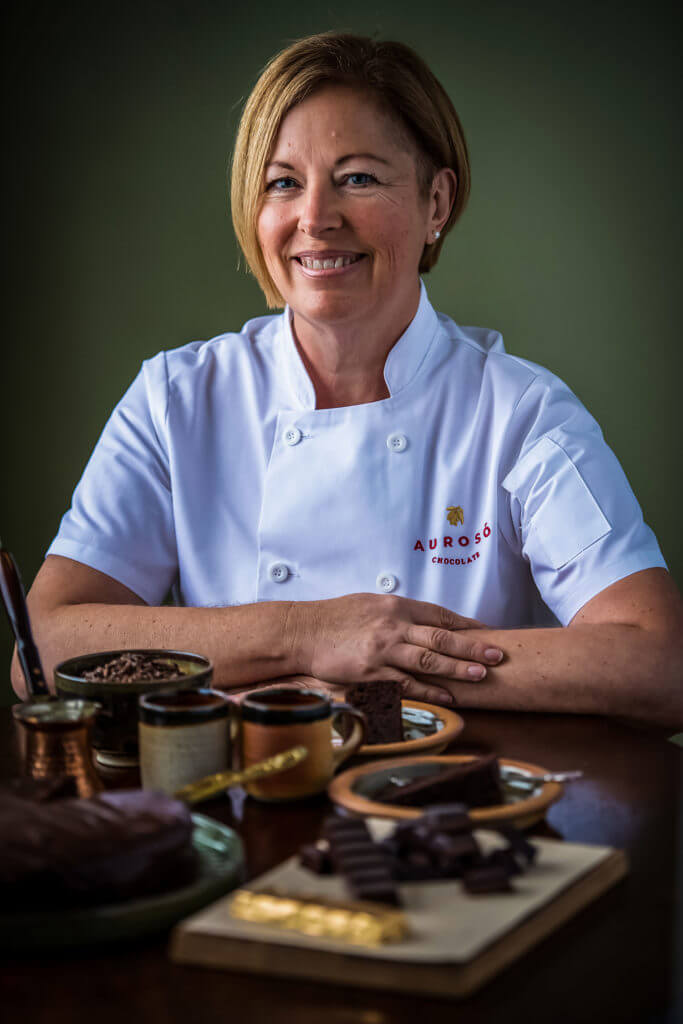 Our Ingredients
We use only the highest quality ingredients in our chocolate ganache bars and florins. Frustrated at the options available, we set out to develop a bar that didn't need preservatives or artificial colourings and soy lecithin to make it commercially viable. Through a combination of nuts, essential oils and coconut butter, and a rigorous production process, we've been able to achieve this.
Our ganache bars contain only 3.8 – 5.2g sugar. This reduced sugar content allows the true luxurious flavour and quality of our chocolate, essential oils and nuts to shine through.
Sustainability
Ensuring that our chocolate bars and florins had minimal impact on our environment was an important part of our development process. All of our packaging is fully recyclable (including the foil, just take care not to scrunch it after use). We use ethical biodegradable alternatives where we can in our production process.